The Mellon Lecture in the Engaged Humanities invites a speaker to campus each semester. Speakers are prominent practitioners of the engaged humanities whose work serves and speaks to the public. The talks are meant for a wide audience of faculty, staff, students, and members of the larger community;  all are welcome to attend, and the talks are free to the public. The speakers are also invited to attend EHI seminars to speak to the students in a more intimate, less formal setting, and the speaker's work is integrated into the syllabus of the courses where possible. Students in the Engaged Humanities Initiative pipeline are strongly encourage to attend and reflect on the lectures, both right after the lecture during the reception and in EHI reflection forms. The speakers we bring to campus help inspire all of us as we work to re-envision the humanities and their power to better understand and transform the world.
SHALE PLAY: An Engaged Poetry and Photography Project on Natural Gas Extraction

With the war in Ukraine creating fuel shortages in Europe and our own increasing energy needs, fracking—an expensive and extreme method of natural gas extraction—has finally become profitable. (If one doesn't count the cost of environmental and public health harms.) Illinois, which sits atop the large, untapped New Albany Shale Field, issued its first fracking permit in 2017. In this presentation, documentary photographer Steven Rubin and poet Julia Spicher Kasdorf presented images and stories from the established fracking fields in Pennsylvania. They showed how artists and humanists can intervene in polarized conversations to amplify local voices and reveal experiences that often get overshadowed by corporate interests.

Reparative Media: Cultivating Stories and Platforms to Heal Our Culture

Reparative Media argues we can create a healing cultural system by developing media, technology and research in communities and informed by intersectionality. I base my argument on five years of deep, productive, and complex work creating an independent alternative to networked media platforms like Netflix: a Chicago-based channel called OTV | Open Television developed in solidarity with Black and Brown queer, trans and women-identified artists—professional cultural healers. I use OTV as a case study for broader systemic changes that are clear and concrete, if only we can commit as much to repairing systems as we do ourselves. Like all processes for healing great wounds, reparative research & development (R&D) is not simple, easy or perfect, but its effects are immediate and backed by data. Reparative Media takes us from Black activist spaces on Chicago's segregated South Side to the Emmys in Hollywood and tech campuses in New York, revealing how the small, local and intersectional has tremendous reparative power in the global, digital age.

The Humanities: Tools to Build A More Just Future

This lecture will explore the power of the humanities to foster reflection, connection, and imagination needed to build more just and equitable possibilities for our communities, particularly those disproportionately impacted by systemic injustice. How can we use the humanities to engage diverse communities in transformative conversations about social issues? How can the humanities serve as healing modalities inviting us to understand the range of lived experiences within all systems of oppression? How can the humanities strengthen change-driven communities creating holistic and reparative solutions to structural violence?

Tyreece Williams is the program manager for the Envisioning Justice initiative at Illinois Humanities which leverages the arts and humanities to envision alternatives to the enduring injustice of mass incarceration. In this role, he oversees the program's grantmaking portfolio and develops free, high-quality humanities experiences throughout Illinois designed to enrich individual and community-based visions of justice. Tyreece graduated from the University of Illinois at Chicago with a degree in Communications in 2016 and worked for several years in the Office of Student Development Services for UIC's New Student Orientation Program. It was after graduating from UIC that Tyreece transitioned into work in the non-profit sector, originally as the administrative assistant for Snow City Arts, an organization inspiring and educating children and youth in hospitals through the arts. For additional info: https://www.ilhumanities.org/program/envisioning-justice/

Caribbean Digital Community: Toward Archives of the Future

Dr. Kaiama L. Glover is a Professor of French & Africana Studies at Barnard College, Columbia University, and author of A Regarded Self: Caribbean Womanhood and the Ethics of Disorderly Being (Duke University Press, 2021) and Haiti Unbound: A Spiralist Challenge to the Postcolonial Canon (Liverpool University Press, 2010). Dr. Glover is an awardee of the PEN/Heim Foundation, the National Endowment for the Arts, the National Endowment for the Humanities, and the Mellon Foundation. Dr. Glover was recently an inaugural Fellow at the Columbia Institute for Ideas & Imagination in Paris, France, and is currently a Fellow at the New York Public Library Cullman Center, where she is continuing work on an intellectual biography of Haitian author Ren Depestre titled "For the Love of Revolution: Ren Depestre and the Poetics of a Radical Life."

This Mellon Lecture will lay out the material, social, and ethical implications of creating and/or nurturing communities and archives of the Caribbean and its diasporas. In a geo-cultural space often marginalized by mainstream institutions and lacking resources for robust technological development, how might scholars – especially those sited in the so-called Global North – establish and sustain connections with regional collaborators? In what ways might digital engagements with past and future archives acknowledge and facilitate such transnational connections? And what are both the affordances and the pitfalls of such digital engagements?

Do We Need Ideological Diversity in Humanities? (Or Is That A Ploy To Discredit Us?)

Dr. Angela D. Dillard is the Richard A. Meisler Collegiate Professor of Afroamerican & African Studies and History at the University of Michigan. Her interdisciplinary scholarship specializes in American intellectual history, race, religion, and politics.

In this talk, Dillard will explore the issue of ideological diversity in the humanities through her ongoing attempt to write an ideologically wide history of the U.S. Civil Rights Movement.

Humanities and Entrepreneurship, or the Entrepreneurial Humanist

Dr. Neal Lester is an award-winning Professor English and Founding Director of Project Humanities at Arizona State University. He is the author and editor of 8 monographs, spanning from female representation in Disney characters to work on Toni Morrison, Zora Neale Hurston, Ntozake Shange, and Alice Walker. He has received national and international acclaim for his course "The N-word: An Anatomy Lesson," and as director of Project Humanities.

The Stories We Tell: The People We Are

An examination of how marginalized and vulnerable communities are covered and written about in the mainstream media and the impact the coverage makes.

Lolly Bowean is a general assignment reporter at the Chicago Tribune who has a particular focus on urban affairs, youth culture, housing, minority communities and government relations. She writes primarily about Chicago's unique African-American community and the development of the Obama Presidential Center. During her tenure, she has written about the death of Nelson Mandela, how violence is lived in troubled neighborhoods, and the 2008 election and inauguration of President Barack Obama. Most recently, she covered the election of Chicago's first African-American woman Mayor, Lori Lightfoot. In addition, she's covered Hurricanes Katrina and Rita and the last gathering of the original Tuskegee Airmen.

Better Living Through the Humanities: Teaching, Research, and Social Justice

Georgetown University Professor Marcia Chatelain discusses the intersection between her academic research in African American life and history and her public scholarship.  In this talk, Chatelain reflects on transforming her dissertation into the book South Side Girls: Growing up in the Great Migration, her appearance on the podcast, "Undisclosed: The Killing of Freddie Gray," her creation of the digital humanities project #FergusonSyllabus, and her work on Georgetown University's Working Group on Slavery, Memory and Reconciliation.  In sharing her experiences on these projects, she reveals how her graduate training prepared her to make a difference inside and outside of academia.

A Prayer for the World: Imagining a Future in the Face of Climate Change, Dispossession, and Transformation

Each new day, it seems, we wake to a barrage of terrible global news and horrifying images. This is particularly true with regard to climate news. It is enough to paralyze even the most empathetic and concerned citizens. In this lecture anthropologist Paige West asks us to consider what each of us can do as students, scholars, writers, and thinkers to understand the historical processes that set the conditions of possibility for our present world, to document or to witness the transformations of the present, and to use our scholars skills to work towards transforming the future.

Paige West is The Claire Tow Professor of Anthropology at Barnard College and Columbia University where she holds an endowed chair. Her broad scholarly interest is the relationship between societies and their environments. Since the mid 1990s she has worked with indigenous people in Papua New Guinea. She is the author of three books and the editor of five more. Dr. West is the founder of the journal Environment and Society, the chair of the Ecology and Culture University Seminar at Columbia University, a fellow (and past chair) of the Association of Social Anthropology in Oceania, and is the past president of the Anthropology and Environment Society of the American Anthropological Association. In addition to her academic work, Dr. West is the co-founder, and a board member, of the PNG Institute of Biological Research, a small NGO dedicated to building academic opportunities for research in Papua New Guinea by Papua New Guineans. Dr. West is also the co-founder of the Roviana Solwara Skul, a school in Papua New Guinea dedicated to teaching at the nexus of indigenous knowledge and western scientific knowledge.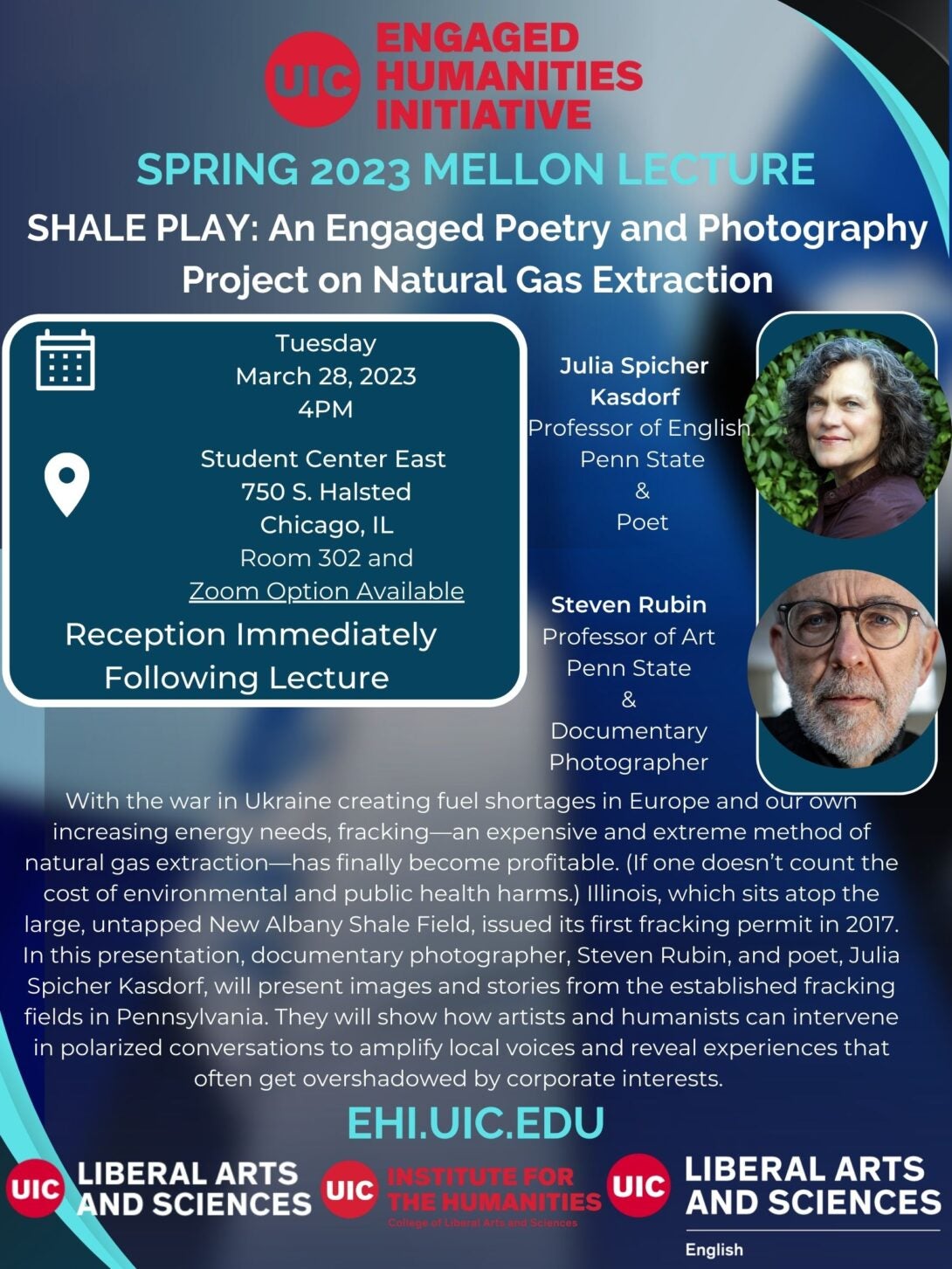 Spring 2023 Mellon Lecture
Tuesday, March 28, 2023
4-6pm
Student Center East – Room 302  and Webinar Option: https://uic.zoom.us/j/89103629062?pwd=THFEMUVOYzlmeURVRVJCOEEyMHd2dz09