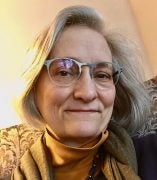 Laura Hostetler, Ph.D.
Director, Engaged Humanities Initiative
Professor
History
About
Laura Hostetler is Professor of History and Global Asian Studies. Her work on early modern cartography and ethnography in the context of Qing China (1636-1911) is characterized by a focus on intersections at the margins between cultural systems. She is the author of Qing Colonial Enterprise: Ethnography and Cartography in Early Modern China (University of Chicago Press, 2001), and The Art of Ethnography: A Miao Album of Guizhou Province (Seattle: University of Washington Press, 2005, with David M. Deal). She has recently completed a translation of the Qing Imperial Illustration of Tributary Peoples (Huang Qing zhigong tu) with Prof. Wu Xuemei of Zhongnan University of Economics and Law.
Her current project, Bridging Worlds: Reflections on a Journey, has taken her into the realm of creative non-fiction. A memoir focused around a year she spent in India with her family, the manuscript-in-progress explores what it means to inhabit a space of uncertainty where knowledge is partial, identities multiple, choices consequential, and trust essential. She writes:  In responding to the varieties of human need that quite literally came knocking at my door, I found myself drawing both on the tools of the scholar—reading, reflection, and writing—and opening myself to the impulses of the inner life—recording my dreams, taking long walks in the woods, and finding myself in prayer. In short, Hostetler chronicles a quest for personal integration in a world where obtaining an education has too often become predicated on the ability to cut oneself off from aspects of one's own inner knowing and lived experience.
Hostetler joined the Engaged Humanities Initiative (EHI) as Director in August of 2021.